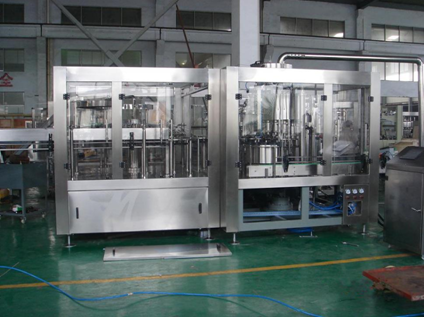 Carbonated fruit flesh filling equipment adopts bottle neck holding transmission technology to realize fully automatic bottle rinsing, pulp filling, carbonated filling and cap screwing.
It employs single cavity plunger type of fixing filling volume technique.
It is equipped with CO2 accuracy pressure control, so that the liquid level is always stable.
The application of alarm devices for bottle jam, bottle shortage, bottle damage, cap shortage, over loading etc, in several places ensure the quality of its production. The machine obtains advantages of high reliability, high efficiency, high grade of automation and easy operation, etc.

PARAMETERS:
型号

Model

QCGFP

16-12-12-6

QCGFP

18-12-18-6

QCGFP

24-18-24-8

QCGFP

32-24-32-10

QCGFP

40-32-40-12

QCGFP

50-40-50-15

果肉灌装头数

Pulp filling heads

12

12

18

24

32

40

产量 500ml

Capacity

3000BPH

5000BPH

8000BPH

12000BPH

15000BPH

20000BPH

适用瓶高mm

Bottle height

150-300

150-340

150-340

150-340

150-340

150-340

适用瓶径mm

Bottle diameter

φ50-φ110

装机容量kw

Installed capacity

3.5

4.3

6.5

8.7

9.5

12

外形尺寸 mm

Overall size

3050x2000x2400

3170x2070x2400

4070x2350x2400

5100x2600x2400

6250x3050x2400

7500x3900x2400